City of London Office Refurbishment Company Contractors
Whether you're moving into new premises or upgrading your existing office, it's important that your company's working space works for you and your team. You want your office space to reflect your business identity, inspire your team, and help your business prosper.
The right office environment not only improves staff morale and therefore productivity, it becomes the home of your brand and represents your company. The essence of your office environment is of course the people who work within its walls. The happiness and general wellbeing of your team are vital to the overall running of your business.
Simple considerations show your workforce that you have regarded them when planning your office refurbishment, creating spaces where people can vary their posture and exercise during their daily work, adding plants and interesting décor and providing comfortable break spaces all contribute to a positive midnset.
Consider improving acoustics to provide the right environment to either concentrate individually or to collaborate effectively and providing staff with a choice of where and how they work all contribute to a more dynamic, happier team.
Ultimately you want your office refurbishment to work for you and help your business thrive.
Call Tim on 020 8938 3893 or Send A Message online to share your plans and vision.
Office Refurbishment Contractors West London and the City
We have a huge portfolio of clients in West London areas, from private offices to commercial properties throughout the postcode areas of serving postcodes of: EC1,EC2,EC3,EC4,E1,WC1,WC2,W1,N1 and SE1. As a trusted team of contractors with 20 years' experience, we earn glowing Customer Testimonials.
Here are some quick links if you would like to learn more about our expertise and project locations:
How Long Will a City Office Refurbishment Take? Budget and Timeline
Read our 7 week office fit out case study from 2020. When considering an office refurbishment there are a few things to consider before you begin;
Budget: Have real expectations in mind when considering your budget. Talk to your designers and gain a firm grasp on how much each area of the refurbishment may cost. Work with them to decide what's most important to the overall look and functionality of your company.
Space and restrictions: It's vital that in the initial stages of planning your office refurbishment you consider the space you're working with and any restrictions it may present. Is the space just a big empty square that's looking sparse and needs to feel less industrial or is it a small space that needs to be opened up and all available space utilised?
Functionality: Think about areas that are most important to the daily running of your business such as desk placement, shared workspaces, meeting rooms and technology use. If your team regularly work together on projects it's important to have a functional space which allows them do so comfortably and efficiently. Similarly if you welcome potential clients into your offices a sizeable, quiet and private area is a must.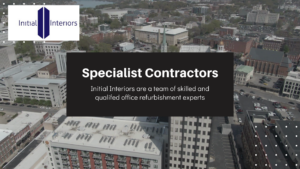 Cost Savings Demonstrated – 2020 Financial Study
We were invited to bid for an office refurbishment in February 2020 and we quoted for complete works to a new property storey that had recently been added.  The most expensive quote range was indicated in the region of 1.2m – Initial Interiors bid at a one-off fully inclusive price under £500k and was subsequently awarded the tender.
We are especially competitive for small and medium budget projects in the range of 10K-70k, consistently undercutting our competition while still offering a bespoke service. Having been recently invited to tender for the refurbishment of a building lobby and atrium staircase we won the contract with a 78K bid undercutting our larger competition by up to 40%.
The property space was stripped bare and it was a time-sensitive project requiring everything from Flooring Solutions, Suspended Ceilings to Lighting Installation and Tea Station/Kitchen design and installation plus a bespoke checklist for a variety of small works and associated gadget installations.
London Property Refurbishments Services for Landlords and Tenants
London Office Refurbishment and Style: When thinking of the aesthetic of your office space it's perhaps helpful to contemplate the overall feel of the environment you're hoping to achieve before breaking the space down into areas of performance. A bright and spacious working space is perfect for productivity however a more homely, warm space welcomes clients and makes them feel more comfortable.
Ergonomic Furniture: Now you know the overall look you're hoping to attain you can start to think about furniture. Whilst it is important that this fits in with your design you need it to be practical too. It's well proven that by ensuring your staff are comfortable at work they will be much more productive and have greater job satisfaction.
Future growth: The final thing to consider is how you expect your business to grow and how quickly. While the office space you've just created is no doubt perfect by now, will it still be perfect in the next 2-3 years? If you expect to grow your company it's wise to consider incorporating this into your plans now rather than having another complete re-fit when the time comes.